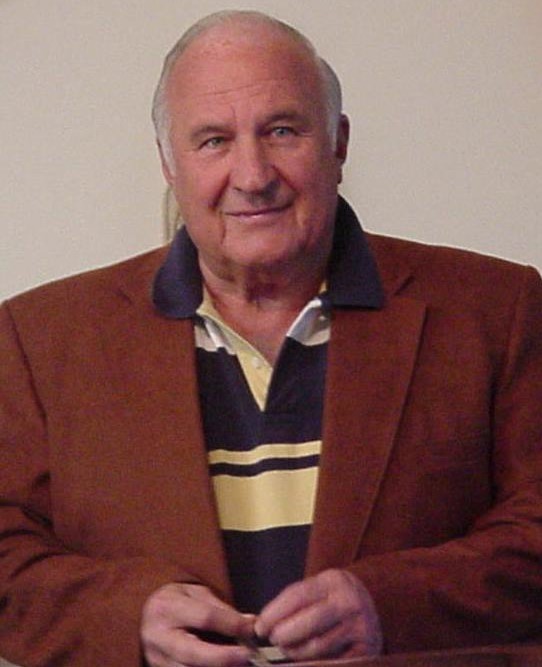 March 17, 1932
-
February 16, 2018
Born in Alamosa, Colorado
Resided in

Denver

,

Colorado
Obituary
William John Horton (The Hawk) 85, of Lakewood died on February 16, 2018. He was born, March 17, 1932 in Alamosa, CO to Ralph and Leta Horton. Bill was a 4th generation, Colorado native with his family roots originating in the Southwestern Colorado town of Lake City, in the heart of the rugged San Juan Mountain range.

Bill's early years were in Alamosa and moved to Denver right before the seventh grade. He spent nearly every summer from birth to his passing in Lake City. Bill's Great Grandparents were early settlers in Hinsdale County. As a boy, Bill shared summer days with his Grandparents John & Emma Liska. He was the proud owner of 2 Donkeys, Jenny & Sid and a menagerie of dogs. The days were busy with chores supporting the tourist cabin business, fishing, family picnics, and just being a little boy. A few years later, Billy's little sister Donna would join in the fun. Billy would help and later guide, Lake City tourists to high altitude adventures for fishing at Crystal Lake and visiting other Hinsdale County mountain treasures. Billy's animals of course, were always along for the ride. When Bill was older he worked on the County road crew.

Bill attended Gove Junior and East High Schools in Denver. He was a tremendously handsome young man, just look at his sons. Bill was an exceptional athlete participating in football, American Legion baseball, track, and basketball. During his high school years at East, Bill focused on football & track. His gridiron days spent under the watchful eye of legendary coach Adolf "Pat" Panek, were nothing short of phenomenal. Bill led the Angels to a state championship in 1949, over the powerhouse Fort Collins squad. He was named an All City, All State running back and earned a spot on the NHS All-American Football Team by the Wigwam Wisemen Football Committee. He was also All City, All State in track highlighted by being a member of the state champion mile relay team. In 2011, Bill was inducted into the East High School Athletic Hall of Fame, a well-deserved honor. Bill was very involved in East alumni affairs and remained so right up to the time of his death.

Bill was recruited to the University of Colorado on a football scholarship and played from 1951-1954 under CU Coach, Dal Ward. During a game in Lawrence Kansas, the home team was chanting their battle cry: "Rock-Chalk-Jayhawk". On the ensuing play, Bill dropped a sure TD pass. Upon returning to Boulder, his teammates nicknamed him "The Hawk"; and the Legend began… During this time, he played with CU buddies, stars and legends: Tom Brookshier, Dick Knowlton, Frank Bernardi, Apollo 13 Astronaut - Jack Swigert, Jim "the Tree" Stander, Lee Marshall, Roger Hunt, Carroll Hardy and so many more great men! The stories told and unfolded during this era simply cannot be repeated in this document to protect the innocent.  The Hawk was recognized as CU Living Legend Inductee - October 11, 2001 - "Forever a Buff". He was also a member of the Phi Gamma Delta (Fiji) Fraternity, as were many of his teammates and high school friends. Son Bill Jr. is also a Fiji and both men remained active in the Fiji Alumni community.

Bill was drafted in the 17th round by the Philadelphia Eagles but elected to join the Army instead. He served for 2 years, stationed at Fort Ord, CA and was then reassigned to Ft. Lewis, WA to complete his service. His military claims to fame were playing football against some of the true "greats" of the early NFL years, participating in exhibition games against the LA Rams and the SF 49ers. Bill primarily played linebacker in service ball because the starting running back was Ollie Matson, a future NFL Hall of Fame inductee. He also peeled a mountain of potatoes, cleaned hundreds of toilets and along with thousands of other soldiers; he was filmed marching in an Audie Murphy movie - "To Hell and Back". He never received the Oscar, nor was he mentioned in the credits.

He began his working career in 1956 as a lineman and technician with Mountain States Telephone & Telegraph. It certainly did not hurt that his father, Ralph C. Horton, ESQ. was a prominent Denver Attorney and the only 2-time Commissioner of the Colorado P.U.C. Bill quickly rose in the ranks ultimately to the title of Assistant Vice President in a very prominent 38-year career with Mountain Bell, U S West and AT&T. Carole was always quick to point out that the Horton's moved 9 times in a span of 14 years in Bill's rising career. They lived in the burgeoning metropolises of Walsenburg, Pueblo, Colorado Springs, Boise, Idaho and Warren Tsp, NJ before finally getting back home to Denver. While with AT&T in NJ, the Hawk had a yellow ribbon tied to a tree in the yard with a note saying: "employee held hostage"! His time, moments and accomplishments in the Bell System were some of the most important contributions he ever made in his life and he loved it!

Throughout his tenure, he was regarded as a trusted leader, an accomplished executive and Bill was loved by all whose lives he touched. The scores of women and men whose careers were impacted by Bill Horton are impossible to record in this writing. Son Michael followed in his father's footsteps and has now reached his 38th year in the Telecommunications industry. "My father's legacy was truly something to behold and I have been told hundreds of times how much everyone loved working with and working for Bill Horton!" Truth be known, it was all of the great co-workers of the Bell System that were the real "secret" to Bill's unwavering love for his work. Thank you all for loving and supporting the Hawk in his career! And to keep the family ties to telecommunications going, Bill's granddaughter Jenna has just completed her 5th year in Telecom.

Through mutual friends (actually Mike Scherer), Bill was convinced to take a blind date with a local girl, Carole Yagodzinski from Denver's Cathedral High. During this time, Bill attended DU to finish up his degree and graduated with a BA in Economics in 1957. Later that year they were married and remained so, until her death in 2015. Carole's passing truly shook Bill to his core and he missed her deeply.

He was the proudest father, grandfather and great-grandfather anyone could know. The Horton kids were all accomplished athletes. Bill was a tireless football dad for the boys and often held "full-contact", post-game coaching sessions in the Horton backyard. It was the 1970's version of today's film study. Just ask adopted, 3rd Horton son, Big Dave Meyers. He received more unsolicited Bill Horton football advice than most anyone. Oh, he went on to become Captain of his UNC Bear squad and is a member of the UNC 50-year All-Star team. Maybe Mr. Horton's advice did pay off?

Bill was a life-long University of Colorado Buffalo supporter & an avid Denver Bronco fan. Every week, sun or rain, sleet or snow the Hortons were in Boulder for the Buffaloes tailgate parties and games. And on Sundays, they were in Mile High Stadium for the Broncos. He and Carole took countless trips to CU away games and to Bowl Games. Carole and the Hawk saw 3 of the first 4 Bronco Super Bowl losses, in person. Oh, the Orange suffering! It came as a HUGE relief and vindication when our Broncos won 3 of their last 4 trips at the Big Game! GO BUFFS, GO BRONCOS!!!!

Bill also enjoyed golf and fly-fishing. He, Carole and the kids would make the yearly trek to Twin Falls, ID for the annual Idaho Telephone Pioneers Golf tourney. After seeing all the dear friends in Idaho, they'd load the car and head west to the Coast Inn in Laguna Beach, CA. For years, they'd meet up with the Horan Family, where Bill and Big Jack would have to debate the dinner checks for their HUGE extended family. It was great time.

Bill's "happy place" was his cabin in Lake City. He loved that place above all. He would just sit on the porch, waving at all the Texans, as happy and content as any living person could ever be. Lake City is and always will be about family. The cabin opens on Memorial weekend and never closes until after Labor Day. The 4th of July was the high point of every summer. Bill and Carole would wait anxiously for the kids Bill Jr., Mike & Kathy to arrive, grandkids in tow. The Horton-Loury July 4th picnics in the yard were the highlight of every year. The Heath and Elliot clans were always present to share in the family festivities. Then it was off to the street dance and the annual fireworks show. Those memories will carry on for generations to come. Bill loved to take long jeep trips, sneak away with cousin Bruce Heath or childhood pal Gordon Clark to hit their best fishing holes. Sure he took the kids fishing, lots of times, always ready to say "Uh oh Bill (Jr), you've got a bite"! Later years, he'd sneak off with granddaughter Jenna to "drown a few worms", sitting idly on the edge of majestic Lake San Cristobal just being a grandpa. He gained generations of friends in the town and became a mentor to some of the men and women leading the community. His heart and soul remains deeply imprinted on everyone and everything in Lake City, Colorado. It was his slice of Heaven on earth.

Later in life, he had the great pleasure to spent valuable and loving time with his 4 grandchildren. He was so happy to finally get a grandson, Matthew Michael. He'd watch Matty play football and was so proud of his Military Service. Semper Fi!! Jocelyn was the fast pitch softball star. As a little girl, she began to hone her skills in Lake City, at the family picnics, trying to hit the wicked curveball from cousin Tyler Heath. Granddaughter Alexandra graduated from Drexel University with High Honors in Chemical Engineering. He spent a lot of time with his buddy and oldest grandkid Jenna Leigh. Lake City's family legacy has been captured in Jenna's heart and she'll continue to do grandpa proud. In December 2016, Bill became a great-grandfather and had precious time with his little man, Dax Michael Runge. He so treasured the love and joy these grandchildren brought to their grandpa. They will miss him dearly.

Bill was preceded in death by his wife Carole & daughter, Kathleen Ann Hudson. He is survived by sons Bill Jr. of Denver and Michael of Tyler, TX; his 4 grandchildren; Jenna Horton and Jocelyn Runge (Drew) of Denver, Alexandra Leonard of Philadelphia, and Matthew Almquist, USMC of Denver; great grandson Dax Michael Runge and his loving sister Donna Loury of Denver.

The Memorial Service will be held on Friday, 2/23/18, at the at Horan & McConaty - Funeral Home & Mortuary located 3101 S Wadsworth Blvd, Lakewood, CO. (303) 986-9615.

Bill will be laid to rest at the IOOF Cemetery in Lake City, CO surrounded by the beautiful San Juan Mountains, later this summer. Here, he will rejoin Carole, Kathy, his parents and all of the Heath and Mayer clan. R.I.P. Hawk….
Services
Celebration of Life
Horan & McConaty - Wadsworth
3101 S. Wadsworth Blvd.
Lakewood
,
CO
US
80227
Reception
Horan & McConaty - Wadsworth
3101 S. Wadsworth Blvd.
Lakewood
,
CO
US
80227