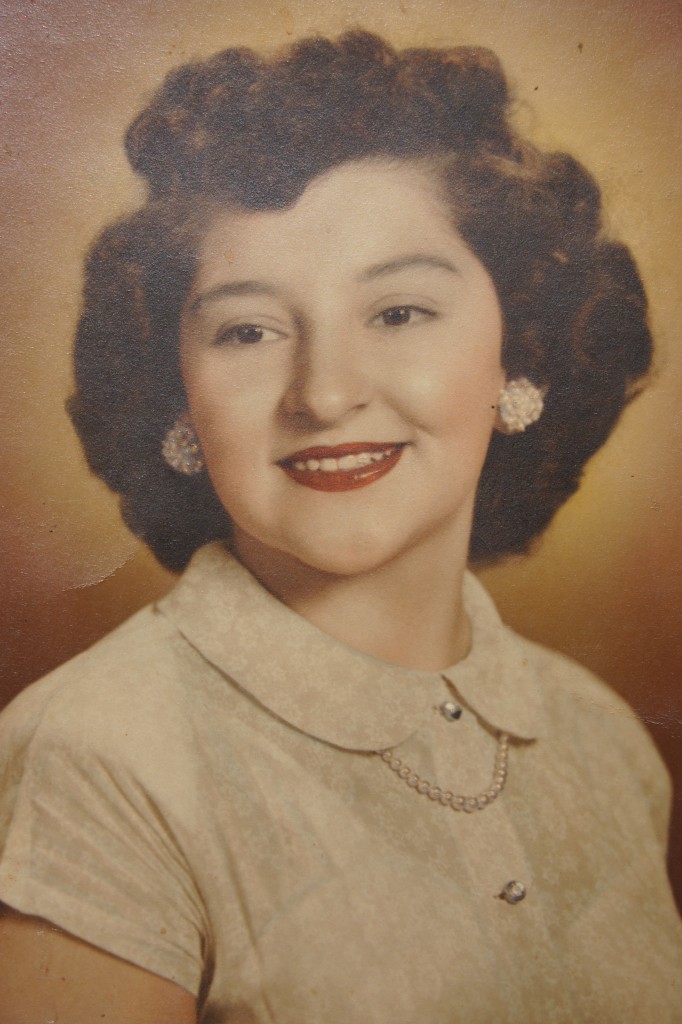 September 19, 1932
-
February 13, 2018
Born in Cuero, Texas
Resided in

Englewood

,

Colorado
Obituary
Frances Ann Yakes, the first child of Julia Aldaco Criado (Born in Cuero, TX) and Marcos Criado Sr (Born in Tampico, Mexico) was born on September 19, 1932, in San Antonio, TX, passed peacefully into eternal life secondary to cardiac arrest at age 85 years on February 13, 2018 in Englewood, Colorado at 2:04 am at the Swedish Medical Center Neurosurgical Intensive Care Unit. Her son Wayne F. J. Yakes MD was at her side with the Emergency Response Team. Her three younger brothers preceded her in death, Ret Master Sgt (USAF) Manuel Criado, Lorenzo Aldaco Criado, and Ret Master Sgt (USAF) & Deacon Marcos Criado Jr (served as Deacon of Immaculate Conception Catholic Church in San Antonio). Francis married Joseph "Skip" Francis Yakes (deceased) on June 6, 1952. Frances was playing for the San Antonio YWCA Volleyball Team in a YMCA Volleyball Tournament with her life-long friend Audrey Sperry (deceased; future Maid of Honor for Frances' Wedding and Godmother with her husband Jim Sperry at the Baptism of Frances' and Skip's children Wayne and Lynnen) when she met "Skip" who was the Captain of the Lackland AFB War Hawks Basketball Team playing in a YMCA Basketball Tournament there as well. Lackland AFB in San Antonio, TX was the Basic Training Center for the entire US Air Force.

Frances Yakes was a precocious child, a truly loved and favorite daughter of her father Marcos, who worked hard and excelled in all endeavors that she embraced. Being taught to read and learning mathematics prior to Kindergarten by her beloved uncle Juan Criado, and while freshly turning 5 years old in Sept 19, 1937, her mother Julia enrolled her at Collins Gardens Grade School in San Antonio. After being evaluated, the teachers with the approval from the Principal of the school wished to place her in 3rd grade instead of 1st grade because of her advanced abilities and knowledge of what was called in the day "The 3 R's": "Reading, 'Riting, and 'Rithmatic.". Her mother Julia, who only went to 3rd grade herself before going to work for her family, flatly said "no", because she felt that Frances already was starting school at a young age 5 (not at age 6) and did not want her to be at a developmental disadvantage being with children more than 3 years older than her for the rest of her time in grade school through high school. But also realizing that starting Frances in 1st grade would be an utter waste of time, Julia wisely allowed Frances to begin school in 2nd Grade thus avoiding a too disparate age difference between her and her classmates. Frances Yakes possessed a strong passion for music as she was First Chair All City Band Clarinetist all four years through high school in San Antonio, TX, being challenged every month continually by many clarinetists and never being defeated from her Freshman through Senior years. She demanded from her father to buy her a new clarinet from San Antonio Music as she did not like any of the ones at Burbank High School whereby he dutifully complied to please her. Frances was the Lead Majorette for Burbank HS in San Antonio and designed and made their award-winning marching outfits. The Burbank HS Majorettes were constantly performing and marching with the Burbank High School Band in many events to include the Battle of Flowers Day Parade and the Fiesta Flambeau Night Parade through the streets of downtown San Antonio during its annual famous "Fiesta Week" festivities. One of Frances' favorite moments was when the Burbank HS Majorettes won a major competition which resulted in them performing in Dallas, TX at the annual Cotton Bowl Classic Football Game played on January 2, 1950, when the Rice Owls defeated the North Carolina Tarheels 27 - 13. Little did Frances know that her son would one day graduate from Rice University with a double major in the pre-med program. Frances was the first person on both sides of her family to graduate from high school (Burbank HS Class of 1950) and to enroll in university courses at San Antonio College and St. Mary's University achieving an Associates Degree. After her musical success at Burbank HS and in the San Antonio All-City Band, Frances was sought after and recruited to play the clarinet and tenor saxophone professionally in a San Antonio Jazz Band. Intellectually Frances was always supremely interested in numbers, accounting, budgets, inventories, payroll, and the like. She first worked in the Administrative Accounting Offices at the Wolf & Marx Department Store (meeting her life-long friend Elba Cardenas, later marrying Felix Hernandez whereby Frances children Wayne and Lynnen were the Ring Bearer and Flower Girl at their wedding; Felix was Wayne's Sacrament of Confirmation Sponsor in 7th Grade at St. Mary's Parochial School), then doing the same for WOAI Radio and Television Station, but met her dream after taking the US National Civil Service Examination scoring so high that she was instantly recruited and hired by the US Air Force Civil Service. Frances reveled as a Budget Accounting Analyst as a civilian in the US Civil Service for the US Air Force for 40 years. Important duty assignments included managing the Budget Accounting Department at Brookes Air Force Base in San Antonio (The School of Aerospace Medicine) as her first assignment. After the death of her mother Julia Criado in December 1989, Frances requested and was transferred to Lajes Air Force Base 65th Air Base Group in the Portuguese islands of the Azores in the Atlantic Ocean. Lajes AFB became crucial to the war effort for Operation Desert Shield/Desert Storm 1990-1991 as all European nations did not allow US Air Force planes that were transporting personnel, weapons, and supplies to the Middle East to fly over their national air space or to land planes in their country or to refuel anywhere in Europe. Planes from the USA landed and refueled at Lajes AFB, then continued through the narrow international air straits south of Gibraltar to support the war effort defeating and removing Saddam Hussein's forces, thereby liberating Kuwait and its oil from his malignant clutches. Frances' service was crucial for Lajes AFB to function, support, and to continually deliver services without fail of fuel delivery, airplane maintenance materials, manpower, and the like, thus significantly maintaining and supporting the war effort for the international coalition forces. After Frances' 5 year tour of duty at Lajes AFB, she was reassigned to Dyess AFB in Abilene, TX, home of the B-1 Bomber Wing. Frances redirected her focus from a wartime perspective to a peacetime perspective. As a Dyess AFB Accounting Budget Analyst, her main directive was in keeping the B-1 Bomber Wing in the air and at constant readiness. During her stellar 40 year Air Force career, Frances Ann Yakes received annual evaluation reports by her Base Commanders resulting in many awards and citations recognizing her outstanding performance and herculean efforts. Frances was recently incensed that during the recent 2017-2018 war games scenarios performed on the Korean peninsula, two B-1 Bombers were flown there to support the war games. After arrival, only one B-1 Bomber was deemed air-worthy and able to perform in those exercises, the other B-1 being grounded. Frances stated flatly that that would never have happened on her watch. At age 81, Frances Ann Yakes concluded her magnificent 40 year Air Force career and at her retirement ceremony, the Dyess Air Force Base Commander personally delivered the Commemorative Speech honoring Frances for the many awards bestowed upon her by the US Air Force and to her unflinching war time and peace time service to the US Air Force and the United States of America. While serving in the Civil Service of the US Air Force at Dyess AFB, Frances served as President of the Abilene Opera Association for 10 years, successfully enabling their many outstanding opera productions. Frances was also a Docent for many years at Abilene's distinguished Grace Art Museum. Frances' great love for art and music passed onto Wayne and Lynnen in great depth. After she took Wayne (pregnant with Lynnen) to Texas' first museum of modern art when he was 2 years old, The McNay Art Museum, Wayne fell in love with Chagall's oil painting "Dream Village" from 1929, a favorite of his to this day. This seminal event launched Wayne's passion for art and led to a magnificent collection that works are constantly requested to be on loan for exhibitions at many museums in the USA, Europe, and Asia. Wayne wishes to bequeath these magnificent works to his children Alexis and Eric to continue this tradition of fine art exhibitions, thus enriching their lives as it has so enriched his. When Frances took Wayne and Lynnen to the now-called Tobin Center in San Antonio to hear Artur Rubinstein when they were 7 and 5 years of age, after the concert they ran backstage and unabashedly shook Rubinstein's hand. The Tobin Center was also where Frances took them to see the original Dave Brubeck Quartet and next door at the Tropicano Hotel restaurant afterwards, Wayne cornered the world's greatest jazz drummer Joe Morello and got him to autograph his well-used lunch paper bag and give it to him. Frances is truly the root-cause of so many indelible memories that affected in such a positive way her children's lives. In January 9, 2001 the Yakes Family attended a Mass in the Private Chapel at The Vatican with Pope St. John Paul II and enjoyed a private audience meeting and speaking with His Holiness. Pope St. John Paul II gave Rosaries he blessed with his Papal Seal to all family members and kissed Alexis M. Yakes and Eric A. Yakes, Frances' grandchildren.

Frances was convinced that great education is the only way to advance one's life and to succeed in one's ambitions. Rather than send her children to the public grade school she and her brothers attended which was a half-block away from their home, Frances worked 3 jobs and they all had to catch the bus from south San Antonio to downtown to attend St. Mary's Parochial School. After 8 years of being educated at St. Mary's, Wayne took and passed the entrance exam to Central Catholic HS, and his score was so high that he was one of four students given a tuition scholarship, thus significantly relieving a huge financial burden. Frances prayed for 9 months Novenas imploring Divine aid for Wayne to pass this exam. When he was granted a 4 year tuition scholarship, she again prayed Novenas for 9 more months this time giving thanks as she was Divinely given more than she had asked for. Frances' son Prof. Wayne Francis Joseph Yakes MD, FSIR, FCIRSE, then graduated from Rice University with a BA degree as a double major in Biology and Psychology, and then from Creighton University School of Medicine MD Degree program. Dr Yakes established the world's first institution totally dedicated to the most complex, challenging, and devastating vascular pathology in Vascular Medicine at the internationally renowned Yakes Vascular Malformation Center in Englewood, Colorado. For his landmark work advancing the specialty of Endovascular Procedures to diagnose and treat Vascular Malformations in all anatomic areas for the first time curatively, his Alma Mater Creighton University School of Medicine bestowed upon him their highest honor, The Alumni Merit Award in 2001. Creighton also named their Medical School Gross Anatomy Lab in his honor. Dr. Yakes served in the US Army for 12 years in the Medical Corps and is a US Army Airborne Ranger having graduated from the US Army Airborne School (lovingly termed by its paratrooper graduates "Jump School") and the US Army Ranger School at Ft. Benning, GA in 1974. Like always, Frances travelled and was present at his Ranger School Graduation at Ft Benning, GA knowing 389 men entered Ranger School training and her son was one of the 39 men that successfully graduated earning the coveted Ranger Tab and was watching quietly as it was solemnly pinned upon him. Dr. Yakes war service includes Operation Desert Shield/Desert Storm 1990-1991. Dr Yakes is Past President of The International Society for the Study of Vascular Anomalies 2006-2008. Frances' daughter Lynnen Frances Yakes attended Incarnate Word HS After St. Mary's and flourished and was the Senior Class President and was a State of Texas First Team All-State Athlete Selection leading her Incarnate Word HS Volleyball Team to the Texas State Championship Game in Houston, TX. Lynnen was a virtuoso pianist and her teacher for years, Myrna von Nimitz who only taught prodigies, demanded from Frances that Lynnen have a piano at home that was commensurate with her abilities. Mrs von Nimitz keenly noticed that Lynnen's finger movements and foot pedal actions were "compensating" on her professional piano being that Lynnen's piano at home had imprecise key actions returning sluggishly and variable tones resulting from the foot pedals action. Frances asked Mrs. von Nimitz to decide which piano Lynnen should have. After Mrs von Nimitz told her to buy a Kawai Grand Piano and where to purchase it at San Antonio Music, Frances dutifully purchased it. What is unique to Frances is she unflinchingly bought a piano whose cost was more than the mortgage on her house. Frances paid on that piano for many years. When Lynnen switched from piano to a voice career, Frances interviewed several families to purchase this grand piano. She was touched by a young girl who had a passion for piano and her mother of meager means and decided on them to have the piano for the grand sum of $100 dollars. The piano was in the living room by the front door and being so hot in San Antonio, the front door was always open with the screen door in place to be a barrier to gnats, flies, and mosquitoes. Lynnen would practice her Chopin, Beethoven, Haydn, Shubert, Mendelsson, Ravel, Debussy, Brahms, Bach, Mozart, Schumann, and the like daily for hours. Wayne would do his homework to it. The word got out quickly and mothers from blocks around would bring their children to the Yakes house, sit quietly on the concrete front porch, listening to Lynnen practice the music of these Masters. There was not a piano for many blocks in this part of south San Antonio barrio and this was the only opportunity for these children and mothers to hear such wonderful music. Frances would quietly serve them Kool Aid and tea while they would quietly listen. Lynnen attended North Texas State University (NTSU, Denton, TX) on a Full Tuition Piano Scholarship, as it was a major school of music in Texas housing the Stan Kenton Music Collection as he, Woody Herman, and so many jazz innovators recruited their musicians from the now called the University of North Texas. Lynnen while at NTSU "walked-on" to the University Division 1 NCAA Volleyball Team and quickly was a starter. Later, Lynnen interviewed in an arduous audition process and was selected and then matriculated to the Juilliard School of Music Opera Program in New York achieving Bachelors and Masters Degrees in Music as a Mezzosprano. Lynnen Yakes has toured and performed lead roles in Opera Productions and Opera Recitals throughout the United States and Europe to include The Dallas Opera, New York's Lincoln Center and Carnegie Hall, the Houston Grand Opera singing the Lead Role in the World Premier of the opera "Starbird", and also performing in the World Premier of the opera "A Quiet Place", premiering at The Vienna State Opera House in Austria, the final original opera with the music written by the legendary New York Philharmonic Symphony Conductor and Composer Leonard Bernstein (of "West Side Story" fame) and the libretto written by Stephen Wadsworth, both being friends of Lynnen Yakes. Lynnen competed and in 1985 was one of the 2 Finalists (2 First Prize Winners and 2 Finalist Winners) in the international Walter W. Naumburg Voice Competition, the previous vocal competition was in 1980 as it is rotated among vocalists and various instruments. Being a Naumburg Finalist, Lynnen was required to perform a national concert and recital tour under the Naumburg auspices. Also in 1985 Lynnen won the First Prize in the Serge & Olga Koussevitzky Young Artists Award Competition, the previous vocal awards in this rotating competition being in 1980. The world's foremost symphony and opera critic in New York for the New Yorker Magazine reviewed Lynnen's many performances and has written with aplomb: "Lynnen Yakes continues to delight memory's ear and eye. Her performance was wholehearted, gleaming, various, and disciplined. She is a performer riveting to watch and hear." The grand vision and dogged hard work of Frances Yakes working 3 different jobs to pay for her children's private school tuition and adjunctive activities as anyone can see bore much fruit. As an aside, Frances never missed a game in any sport that Wayne played in from 2nd grade through Rice University. Lynnen first played and competed in the sport of varsity volleyball her senior year of high school (being a Texas First Team All-State Selection) and again Frances never missed a game. Frances and Wayne sat together watching Lynnen's Semi-Final and Final State Championship Games in Houston, TX cheering the team on.

Frances is survived by her son Wayne F. J. Yakes MD, her daughter Lynnen F. Yakes, her grandchildren Jaron Rubinstein, Alexis M. Yakes, Eric A. Yakes, Ziva Rubinstein, and Yael Rubinstein; her nephews Mark Jude Criado, Thomas Criado, and Manuel Ray Criado; her niece Cathy Criado Bureau.

Frances A. Yakes Funeral Mass will be celebrated at The Cathedral Basilica of the Immaculate Conception in downtown Denver, Colorado at 12:00PM Noon on Saturday, February 24, 2018. A Reception for continued fellowship will take place following the Funeral Mass. Final details of the reception are pending.

Please share your memories of Frances and condolences with her family by singing the Guestbook below.
Services
Funeral Mass
Cathedral Basilica of the Immaculate Conception
1530 Logan Street
Denver
,
CO
US
80203