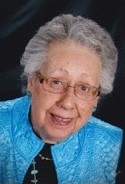 November 11, 1927
-
January 5, 2018
Born in Jaffa, Palestine
Resided in

Aurora

,

Colorado
Obituary
Elham McCarthey, born November 11, 1927, peacefully passed away on January 5 after an exceptional 90 years of life. She is survived by her three children: Valerie McCarthey-Smith (Skip); Eric McCarthey (Peggy); Sharon Gillespie (Tim); and granddaughter, Alexandra. Ellie is also survived by nieces Sandra Lester, Sharman Hutchens, and nephew, Nigel Hughes.

"Ellie", as she is known to family and friends, was born in Jaffa, Palestine. She was the youngest of five children born to Tewfik and Alia Hallak, of Turkish and Albanian descent respectively. She was a highly gifted young woman who was educated in German schools in Palestine. She learned and mastered four languages, and actively played several sports. Ellie always made friends easily. To her last day she never met a stranger. Her smile and laugh were her signature.

After World War II the Hallak family fled to Beirut, Lebanon, where Elham went on to complete a four year degree at the American University of Beirut. While working in Beirut, this lovely young woman began the journey of her life when she met and fell in love with Robert G. "Bob" McCarthey, Jr., an American, who was working for Williams Brothers Oil Company in Beirut. Ellie and Bob married a few months after meeting, then moved to the United States where Ellie began the next stage of her life as a Navy wife living in NY and NJ. Bob had enlisted and was stationed there as a Second Lieutenant in the Naval Supply. They later moved to Tulsa, Oklahoma, where Bob began work for Vinson Supply. From there Ellie found herself 'deep in the heart of Texas' when Bob was transferred to Amarillo, TX. They lived in Amarillo for many years until they were transferred again to Denver, CO, in order for Bob to open and manage a new branch office for Vinson Supply.

Ellie raised her family, and several lovable dogs, primarily in Amarillo and Denver. Ellie was all "mom", living her life devoted to her children, Sharon, Eric and Valerie. She was a second mom to many others as well - always creating a home where all the children's friends could wander in and out as needed throughout their lives. Between football and baseball practices and games, ballet classes, theater rehearsals and performances, Ellie put in a great deal of "windshield duty", chauffeuring her busy kids back and forth. She was often heard saying to her family that she was "not a short order cook"! That said, nobody could make a meatloaf like Ellie! She came a long way from not knowing how to cook when she and Bob were first married.

Ellie was a formidable and avid bridge player, active in many bridge groups over the years. She was invited to become a member of the prestigious international organization, Welcome to Colorado, which she truly enjoyed. She took great pride in her membership and was an active member for many years. In later years Ellie expanded her interests by becoming educated in the world of finance and investing, even joining an investment club.

Despite the great distance, Ellie always managed to stay close to her mother, brother and sisters, who were living in Lebanon, England and South Africa. She made several trips overseas throughout the years to be with her beloved family, even bringing her mother to Amarillo to live with our family for a period of time. Ellie's heritage was extremely important to her and she passed on this significance and appreciation to her children and granddaughter. Her network of close friends, wherever she lived, was remarkable, as she generated a spirit and love for others like no one else.

Ellie spent the last forty-five years in the Denver area. Her family will celebrate her life on June 2. Springtime was a favorite time of year as she used to sing in one of her favorite songs, "When It's Springtime in the Rockies". Mom, your family misses you every single day, and we are forever grateful to you for helping us to become the people we are today.

Contributions may be made to the Susan G. Komen Foundation or to The American Heart and Stroke Association.

In honor of Ellie, a Celebration of Life will be held 1:00PM, Saturday June 2, 2018 at Horan & McConaty (11150 E. Dartmouth Ave Aurora, CO 80014). Following the Celebration of Life we would like to invite you in joining the McCarthey family for a reception in the Heart Light reception hall.

Please give your condolences to the McCarthey family.
Services
Memorial Service
Horan & McConaty - Parker
11150 East Dartmouth Avenue (at Parker Road)
Aurora
,
CO
US
80014
Reception
Horan & McConaty - Parker
11150 E Dartmouth Ave
Aurora
,
CO
US
80014