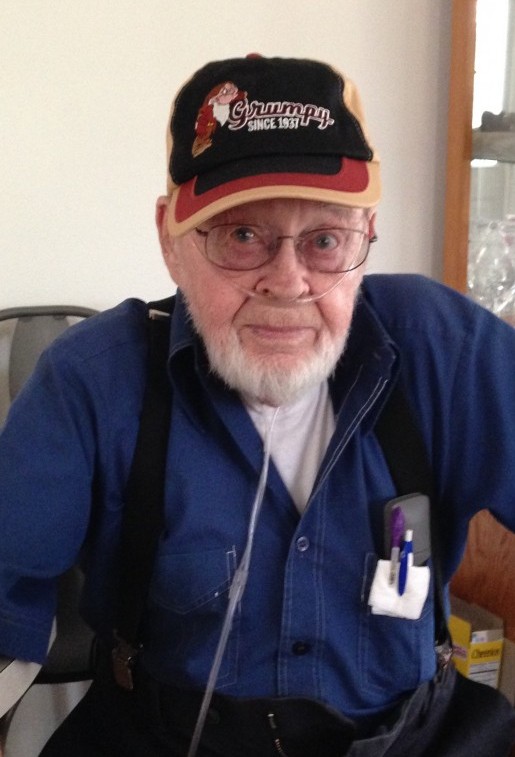 August 15, 1927
-
February 27, 2018
Obituary
Ord, also known as "Hutch", "Marvin", or "Grumpy" later in life, was born in Denver to Margaret Roe Sands Hutcheson and LeRoy Arthur Hutcheson. He grew up in south Denver, attending South High School until he entered Wentworth Military Academy, an elite military junior college in in Lexington, Missouri, graduating high school in 1945.

Marvin entered the Navy shortly after graduating and was honorably discharged from his position as a Fireman, Second Class, in December 1946. Because he was on the shakedown crew of the USS Philippine Sea, he became a plank owner when it was decommissioned.

Following the Navy he worked for his father's company, The Hutcheson Construction Company, a highway and heavy construction firm. Working there for about 10 years, he drove heavy construction equipment and later became the office manager.

In May 1950 he met Bonita Lee Jones on a blind date set up by a co-worker of Bonita's. By August they had mutually agreed to get married and exchanged wedding vows October 22, 1950, at Loyola Catholic Church. Their first daughter, Marnie Louise Hutcheson, was born on December 9, 1951, at Mercy Hospital in Denver. In 1954 they bought a house on South Sherman Street in Englewood in which they could raise their family. Their son Christopher Lee Hutcheson was born November 4, 1954, also at Mercy Hospital. While in Englewood two more daughters were born. Cynthia "Thea" Lynn Hutcheson came into the family on August 14, 1958, and Therese Ann Hutcheson followed March 20, 1960. In the early 1960s they moved to a new home in Sheridan where they lived for over 35 years, moving to their current home in 1997.

Over his life Marvin worked in various construction jobs including heavy equipment, concrete and prestress erection, working all over the state on various projects including the foundation for the famed Spaceship house along I-70, which Woody Allen used in his movie, "Sleeper", and the construction of Chatfield Dam. Near the end of his work career he worked as the deliveryman for Wagner's Dinettes in Englewood.

Marvin also enjoyed many different hobbies. As a young man he spent time with friends fishing, backpacking and square dancing. He was a prize winning square dancer, and he and his square partners went all the way to the Nationals in Colorado Springs. He also enjoyed flying his father's airplane, and racing his stock car, number "22", at Lakeside Speedway. After becoming a father, his hobbies changed to softball, model airplanes, wine making, golfing, and photography. Later in life he found enjoyment in cruising.

May 27, 2017 his only son, Chris, suddenly passed away, after battling COPD, alcoholism, and throat cancer. Marvin found Chris after he passed and took the loss very hard.

In early 2000 Marvin was diagnosed with COPD and advised to quit smoking - which he did. He was started on supplemental oxygen during the day. Over the following years his need for the additional air increased to continual use. In December 2006 he had heart valve replacement surgery. He was put in Home Hospice care by his heart doctor in June of 2016. Over the next year and a half his health slowly declined taking a sudden turn for the worse in mid-February 2018. He passed away in the early hours of February 27, 2018.

Marvin is survived by his wife Bonita, daughters Marnie, Thea and Therese, daughter-in-law Wendy Rich, son-in-law Randy Merrick, grandson Dane Boyd, granddaughters Laren Hutcheson, Vel Boyd and Kate La Breche, grandson-in-law Matt Trujillo, great-grandson Deitrick Miller and great-granddaughter Jaedrae Boyd.

A memorial service will be held Monday, March 26, 2018, at 6:30pm in the St. Agnes Center, at Holy Name Catholic Church 3290 W. Milan St., Sheridan, CO. In lieu of flowers the family requests donations be made to the St. Vincent de Paul Society c/o Holy Name Catholic Church at the address above.
Services
St. Agnes Center
Holy Name Catholic Church
3290 West Milan Avenue
Englewood
,
CO
80110