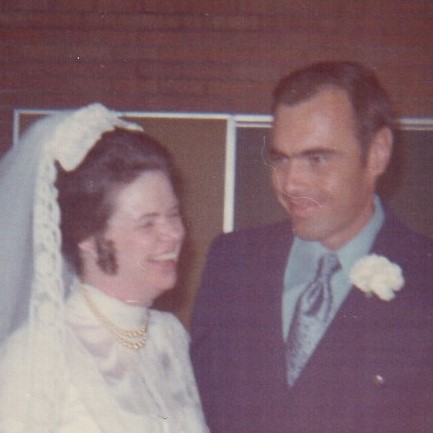 Obituary
Joseph was born to Ethel Ruth (Galloway) Weber and Theodore Henry Weber on March 3, 1936 in Denver, Colorado. Virginia was born to Esther Katherine (Hein) McCorkle and Floyd Smith McCorkle on September 22, 1938. Both of Irish descent, they entered into eternal rest together on St. Patrick's Day March 17, 2018.

Joseph, 82, was preceded in death by his parents, his brother Theodore and his sister Nancy. Virginia, 79, was preceded in death by her parents and her sisters, Mary Ellen and Patricia. Joseph is survived by his brother Robert (Roberta). Together they are survived by many nieces and nephews, great-nieces and nephews and great-great-nieces and nephews.

Joe attended St Vincent de Paul Grade School through eighth grade and graduated from St. Frances de Sales High School in 1954. He received his Bachelor's Degree from Regis College in 1958. Joe proudly served in the United States Army for three years. He saw the telecommunications industry evolve over his 30 year career as a telecommunications specialist with Mountain Bell, US West and Fujitsu. During this time he met the love of his life, Virginia. Virginia attended Fort Morgan Grade School and High School. Her love of reading led her to a position as a librarian. She was passionate about reading and encouraging children to love books. She eventually took a job in Longmont doing office work where she met Joe. They were married on October 27, 1973. Once they moved to Denver Virginia became very active in the Denver Democratic Party, working tirelessly during elections for her candidates. Later, she spent many years volunteering as an election judge.

Joe and Virginia kept busy with their favorite hobbies. Joe enjoyed playing chess, following the local sports teams and reading about American History. Virginia loved gardening, cooking and especially baking. They were avid Bronco fans, even making the trip to New Orleans for Super Bowl XXIV. They enjoyed eating out with friends and family and slyly picking up the tab before anyone ever noticed. Holidays and special occasions were spent with family in Fort Morgan and Denver. The precious kitties that shared their life with them were always quite spoiled. Joe and Virginia have been a blessing to all who were fortunate enough to know them and be loved by them.


Contributions will graciously be accepted by the Denver Dumb Friends League in memory of Joe and Virginia.

Please share your memories of Joseph and Virginia and condolences with their family by signing the Guestbook below.
Services
Committal of Cremated Remains
Pending
Funeral Mass
St. Vincent de Paul Catholic Church
2375 E. Arizona Avenue
Denver
,
CO
80210
Charities
Denver Dumb Friends League
2080 South Quebec Street
Denver, CO US 80231
www.ddfl.org