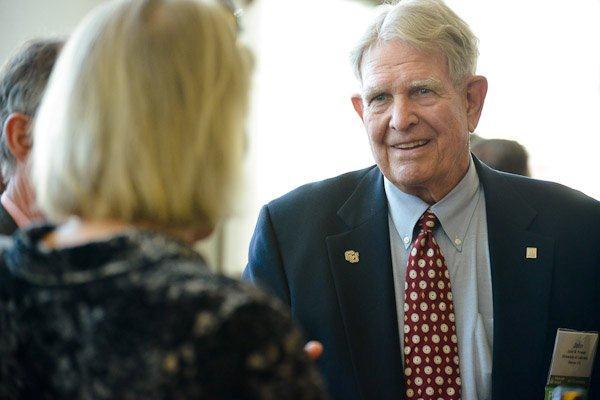 December 28, 1932
-
November 20, 2017
Born in Wichita, Kansas
Resided in

Denver

,

Colorado
Obituary
John Prosser had an oracle-like ability to predict that Denver would become the city it is today, but he made it a major part of his life's work to ensure the historic fabric of the city wasn't lost amid massive population increases and the waves of development that followed.

"Believe me," he said in 2001 as the U.S. census showed Colorado's population density rapidly rising, "you ain't seen nothing yet."
Those efforts by the urban planner and architect left his fingerprints all over Denver, from Lower Downtown to the airport and the Auraria Campus to the Denver Tech Center. The long-time University of Colorado Denver professor's latest focus was pushing back against state plans to reconstruct Interstate 70 through the impoverished neighborhoods of northeast Denver.

"If you look back over the last four or five decades, it's really hard to imagine and to understand the big impact that he had," said Denver developer and preservationist Dana Crawford, who knew Prosser for more than 60 years and had lunch with him hours before he died. "Not only on the school, but on the special projects that he worked on."

Prosser died Monday at 84 following a stroke, according to family, leaving behind a somewhat hidden legacy for which he never asked for thanks.
"He wanted to do whatever he could to take care of other people and did it with absolutely no ego," said his daughter, Jenn Anya Prosser. "My dad was the most dedicated person I've ever met. It's something I've kind of taken for granted my entire life — I grew up knowing I was John Prosser's daughter and that meant things I didn't fully understand."

The Wichita, Kansas, native was an Air Force veteran and world traveler who piloted bombers, was a top-notch golfer and a father, grandfather and husband. But he was also a fierce protector of Denver's past, helping preserve buildings (like the Tivoli Brewery and St. Cajetan's Church) when the Auraria Campus was built and working on projects like the University of Colorado Anschutz Medical Campus and Denver Botanic Gardens.

Most recently, he had been one of those leading the charge against the Colorado Department of Transportation's overhaul of I-70, calling for the highway to be rerouted to the north and the reunification of neighborhoods split by the roadway's original construction. (The controversy has gained national attention and stoked a surge of activism.)

"John was a history book," said Denver community organizer Bridget Walsh, a fellow opponent of the I-70 project. "He had lived a long enough time to see ideas come and go. John was one of the first people to ring the bell on I-70 as being a boondoggle."

That activism and selflessness translated too into his family life and work as an educator. "When my car would get plowed into a spot, my dad would come pick me up at 5:30, 6 in the morning and drive me to work and then go back and shovel out my car. At 82," Jenn Anya Prosser said. "He just got better with age. He was such a caring person."

"My dad worked with CU for over 40 years," said Anne Prosser, another of Prosser's five children. "He loved being an educator. I think he just always saw the potential in people and believed in people."

Crawford, who worked with Prosser on development and preservation projects in places like Lower Downtown Denver, said when she had lunch with her old friend from the University of Kansas hours before his fatal stroke, "he was just completely vital and had an idea a minute as usual." Prosser shared with her seven words to live by that came from a book he was reading. "The words are 'Be healthy. Be kind. Respect the environment," she said.

A celebration of Prosser's life was held at 4 p.m. Saturday at the Oxford Hotel's Sage Room, 1600 17th St., Denver. It is open to the public.
Services
Funeral Home
Horan & McConaty - Colorado
1091 S. Colorado Blvd.
Denver
,
CO
US
80246