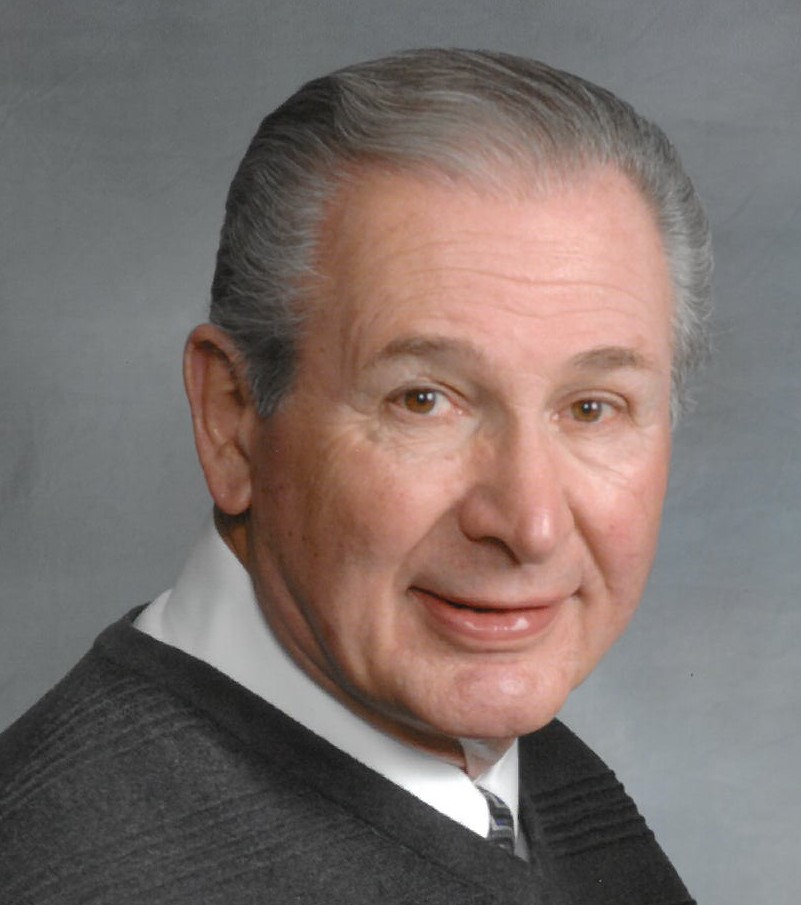 March 18, 1933
-
April 9, 2018
Born in Denver, Colorado
Resided in

Highlands Ranch

,

Colorado
Obituary
Sid was born, George Martin Chite, on March 18, 1933 to an unwed mother named Eve Chite. On the official birth certificate, the father was listed as Ernest Seigel. There is no record of an "Ernest Seigel" living in the Denver area according to any city directories of the time. In little less than three weeks, "George" was placed at the State Home for Dependent and Neglected Children in Denver Colorado. "George" lived there until he was seven months old with 85 other children. On October 21, 1933, he was adopted by a Jewish couple Eley and Dora Zahalsky, both 39 years of age. "George's" name was changed to Sidney Lee Zahalsky at that time.

In July 1934, Eley, whose occupation was a tailor, died unexpectedly. Dora then moved in with her sister, Rose and her husband Zelick Rosenbaum.

In the fall of 1938, Dora remarried to a man named Esse Margolis, who was ten years her senior. Unfortunately, in 1942, Dora died. Esse remained in the Denver area, but never adopted Sid himself.

Only 9 years old, Sid had been in an orphanage, and had had both his parents die. Not a good life for a young boy. World War II had just started and food/supply rations were implemented.
Aunt Rose and Uncle Zelick did the right thing and decided to raise Sid. Both Rose and Zelick were at this time 55 years old and had 4 adult children. The Rosenbaum family made a pact to "never tell Sid that he was adopted and that Eley and Dora were not his biological parents."

The Rosenbaum's lived in a close knit Jewish community on the west side of Denver. They attended the local synagogue and Sid had his bar mitzvah at age 13. Sid even had a part time job working in the shipping department in a Western Wear shop. He attended West High School where he fell in love with Betty Graff, who was one year younger than him, whom he would eventually marry.

Sid graduated from high school in 1951 and with the social expectation to be part of the military service, he joined the US Navy. He was deployed from boot camp in San Diego to the SS Boxer and off to the Korean peninsula on a supply ship Sid went. He was assigned, as Sid described it, "the best job ever" to be in charge of the ice cream shop on board the ship. His other duties included being part of the military police when the ship docked in Japan to resupply.

He remained in contact with Betty. She made several trips to the California coast to meet Sid during his furlough leaves. It was decided once his 4 year commitment was over they would get married. The Rosenbaum family was not happy about his decision marrying a non-Jewish girl and threatened not to attend the ceremony.

On October 23, 1954 Sid and Betty wed. Of the extended Rosenbaum family only Uncle Butch, Sid's stepfather, attended the event. It took a few years for Betty to be accepted into the family. Sid started to work for a local construction company at this time. Sid was hoping for higher paying job if they were going to start a family.

February 1956 brought their first child into the world, Deborah Lea. Also at that time, Sid reconnected with his some old friends and landed a job as loan officer at the Metropolitan Industrial Bank. He would remain with this company for nearly 40 years and be promoted to Vice President.

In September 1960, a second daughter, Diana Lynn joined the family. At this time they purchased their first house and moved to Littleton in the extreme south suburbs of the greater Denver area. Life was good for the Zahalsky's. Betty was the typical 1960's housewife, staying home to raise the two girls, preparing evening meals and maintaining the house in tip top shape. Sid took pride in his well-groomed lawn and colorful flower beds. His property was the envy of the neighborhood.

In next couple years, both Esse and Zelick died.

In 1969, Aunt Rose died and her death opened a "can of worms" for Sid and the Rosenbaum's. The promise to never tell Sid about his adoption was broken by one of Rose's children. Sid was completely devastated that this secret was kept from him for 36 years.

He eventually found solace when the Zahalsky family started attending the Denver First Church of the Nazarene. He became a church board member and helped in the establishment of an on-site elementary school. He remained active in church activities for the next four decades. Sid loved socializing with his church friends. Dinner parties at the Zahalsky's house gave Sid an excuse to "show off" his barbequing skills, especially cooking his favorite steaks.

Daughter Deborah (known as Debi), graduated from high school in 1974 and went off to college to persue a degree in Music. Debi's summer jobs included working at the same bank with Sid.

In 1979, second daughter Diana, had Sid and Betty's first grandchild. New "Grandma" Betty and "Grandpa" Sid helped raise new baby Jessica at the Zahalsky's house.
In the next ten years, there were new family additions. Debi married and had two boys and Diana added to her family with a boy as well. The grandkids loved to visit Sid and see what crops were growing in his garden. They especially loved the huge pumpkins that Sid would grow each season.

In 1989, Metropolitan Industrial Bank was closing and Sid moved to another bank for a couple more years. Finally in 1991, he changed occupations and started selling cars for Goodman GMC-Buick in the southern part of Denver.

Sid and Betty purchased a new home in 1999, located in Highlands Ranch, another southern Denver suburb.

In the meantime, Sid moved to several other car dealerships selling Chevrolets, Nissans, and Saabs. He had a large customer base and seemed to enjoy selling cars. He finally retired in 2006.

Sid's first signs of Alzheimer's started when driving the car. He would "forget" how to get to the store, church and how to get back home. His short term memory skills started to fail. Debi took over financial responsibilities, a difficult change for a former bank executive to accept. His wife, Betty, took over driving responsibilities and not long afterwards Betty would start exhibiting similar dementia symptoms.

By 2009, daughters Debi and Diana were doing weekly welfare checks and preparing meals for the both of them while Sid and Betty continued to live in their own home. Betty's condition progressed rapidly by 2012. By this time, Betty and Sid needed daily assistance. For five years, every day, the daughters dealt with housekeeping, personal care, meal preparation and financial decisions. Finally, in February 2017, the decision was made that both Betty and Sid needed 24-hour care and they moved to Julia Temple Healthcare Center. Sid spent his last year in the care of the wonderful staff at Julia Temple.

While Sid was living at Julia Temple a wonderful thing happened. Through DNA testing it was discovered that Sid had a sister and that she lived here in Colorado. In fact she lived just a short distance from Sid. Sid was able to meet and visit with his new-found sister, Karen, at the age of 84. Sid and Karen had many things in common and knew many of the same people as they grew up in the same Jewish neighborhood in Denver. But, they knew nothing of each other as they were adopted into different families. Such a small world.
Sid is dearly missed by his family and friends and his new family at Julia Temple.

In lieu of flowers, donations can be made to the Alzheimer's Association or the charity of your choice.

Services will be held at 10:00 a.m. on Tuesday, April 17 at this location. Burial is at Ft. Logan National Cemetery at 12:00 noon.

Please share your memories of Sid and condolences with his family by signing the guestbook below.
Services
Funeral Service
Horan & McConaty - County Line
5303 East County Line Road
Centennial
,
CO
US
80122
Burial
Fort Logan National Cemetery - Area A
3698 So. Sheridan Blvd.
Denver
,
CO
80236