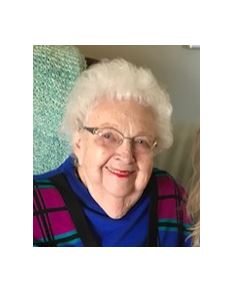 Norma
Marjorie
(Peterson) Mayotte
December 4, 1928
-
January 16, 2018
Born in Canby, MN
Resided in

Littleton

,

CO
Obituary
Norma Marjorie (Peterson) Mayotte was born December 4, 1928 in Canby, Minnesota, one of six children of Olaf and Mabel (Roan) Peterson. She was baptized, confirmed, and married at First English Lutheran Church. She was a graduate of Canby Public High School, class of 1946. Music was an important part of Norma's life, beginning with singing "Away In A Manger" at age 4. While in high school she sang in Girl's Chorus, Mixed Chorus, and Mixed Ensemble. These were war years and the boys were gone, so she sang tenor. She played flute in the band, sang in the church choir, and played the piano.

After graduation, she took her one-way ticket to Minneapolis and worked at First National Bank. She attended different dance clubs and met Douglas Mayotte fresh out of the Navy. He found a job with Western Electric, which involved traveling to five different states. They were married March 8, 1947 and were transferred to Bemidji, Minnesota.

Traveling stopped for Norma when the four children arrived: Wayne Darrel, Jeffrey Dean, Marcia Louise, and Rene Charlene. While in Minneapolis, the Mayottes were members of Richfield Lutheran Church where Norma sang in the choir. In 1964 the family was transferred to Denver, Colorado where they joined Grace Lutheran Church. In 1983 they were transferred to Seattle, Washington. There they joined the Veterans of Foreign Wars, bought a boat, and became Coast Guard Auxiliary certified.

In 1995 the Mayottes decided to move back to Denver, joining St. Philip Lutheran Church in 1996. Looking for a niche, Norma decided to do the coffee cart, which she committed to for 8 years. She also assembled the Sunday bulletins and the monthly newsletter until 2009. Norma was on the Fellowship Committee and assisted in the church office. Pastor Marxhausen called his volunteers the "Sweat Sisters." His secretary, Diane, called them the "Gospel Gossipers," and eventually Norma earned the title "Boss." In later years, as the group size increased, Mary Olson dubbed them "The Force." In more recent times the ladies called themselves "Pew Partners."

During the events at Columbine High School in 1999, Norma talked Katie Couric out of speaking to Pastor Don, who was questioning the reporter's attire. Norma says of the incident: "I asked if the station told them what to wear or if they dressed themselves. When she said they chose their wardrobe, I gave my advice and she took it well."

During her marriage, Norma was a waitress, bank teller, bakery clerk, cake decorator, mortgage loan underwriter, shareholder servicer, and oil production clerk. She was a 50+ year member of Eastern Star and a life-time member of the VFW Auxiliary. She delighted in sending cards and letters.

Norma was preceded in death by her parents, four brothers, her sister, and an infant grandson. She is survived by her husband Douglas Gordon Mayotte, her 4 children, 13 grandchildren, 20 great-grandchildren, and 5 great-great-grandchildren.

A Funeral Service will be held on Sunday, January 21, 2018 at 2:00pm, St. Philip Lutheran Church, 7531 South Kendall Blvd., Littleton, Colorado 80128. Norma will be committed to Fort Logan National Cemetery on Tuesday, January 23, 2018 at 11:15am, Section 'C' with a light lunch to follow at The Veterans of Foreign War Post No.9644, 2680 West Hamden Ave., Englewood, Colorado 80110.

Gwen Cordova,
Auxiliary Chaplin of Post 9644

Commitment Ceremony,
Pastor Don Marxhausen

Please leave your condolences for the family in the guestbook below.
Services
Visitation
Horan & McConaty - Wadsworth
3101 S. Wadsworth Blvd.
Lakewood
,
CO
US
80227
Funeral Service
St. Philip Lutheran Church
7531 S. Kendall Blvd.
Littleton
,
CO
80128
Burial
Fort Logan National Cemetery
3698 South Sheridan Boulevard
Denver
,
CO
US
80236