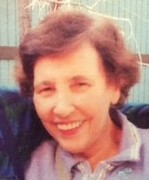 August 12, 1923
-
February 26, 2018
Obituary
Edith R. Riley passed onward peacefully on 2-26-18 in a Highlands Ranch, Colorado care facility. Very active all her life, it wasn't until her early 90s that Edie began catching up on sleep. By the winter of 2017-18, she had amply prepared for the big sleep, and one day all the sleeps merged into one.

Along the way to that moment, many of us have been inspired to see her rise time and again, with smile and laugh, overcoming challenge after challenge, in whatever form they came. We fortunate ones, those who traveled a few steps with her, cannot fathom what makes such illustrious ones, or why we are so lucky that they come our particular way. All we fellow travelers can do is be grateful to have known someone like her, and to tell of the places someone like her has passed by.

Edie arrived during an annual celestial event. Every year, the Perseid meteor shower reaches its height of activity about August 12. On August 12, 1923, Edith Isabelle Reed was born to Clarice and Edward Reed in East Orange, New Jersey. Such time of year and time of life depends upon perspective, both in space and time. In neither beginning nor end of her life was Edie figuring out how old she was, but how new. In the in-between years, Edie could count with the best of them, and also not count. Her family and Edie always loved those warm August nights, but it wasn't always because of the Perseids. For us family it was because we could celebrate Edie's birthday, and Edie loved her birthday because she got to see family. We don't have to be astronomers to catch whatever shooting star moments we can.

All here life, Edie liked to fly. Whether it was adorning big butterfly wings as a 6 year old, airborne ballet dancing throughout her growing-up years, or flying to visit her scattered children around the country, Edie liked to fly. All her life Edie liked water, whether it was diving into the summer Camp Lenoloc (N.Y,) lake in her teenage summers, filling her backyard swimming pool for her own and neighborhood kids in Harvey Park (Denver), wandering beaches in Mexico in her empty nest years, or staying in shape in YMCA pools in her wrinkly years, Edie liked water.

Edie liked a lot of things. Her strength of character was her first duty, and once established she used it first on taking care of family. She loved and empowered her parents, her brother Eddie, her husband Gordon, and her 4 kids, Kent, Glen, Sherrie and Carol, all born in the early 1950s. Except for Gordon that is . . . who was born the fall before Edie. Edie met Gordon when she came to Denver in 1948 to visit her brother Eddie. Edie and Gordon were soon married, and stayed so, from November 1, 1948 until Gordon died in 2014.

Edie excelled in too many endeavors to either remember or mention on demand. Her endeavors showed that she was uninterested in fame, but in making the world good for those around her. Although she revealed a profound sense of clothes design and color understanding, it was entirely expressed in creating family clothes and utilitarian fabric works. She loved growing flowers not only for beauty and fragrance, but also for butterflies and night moths. She stocked the pantry and family with canned and frozen treasures. Her exceptional mathematical and people-friendly skills charted the changeover from paper records to computer ones at her career job, Security Life Insurance, Denver, where she worked for 30 years. She loved games, playing bridge with her mom, sons, and clubs, and also taught and played dozens of other games with the kids, and in later life, the regional casinos.

Edie loved baseball. She only saw 2 games in person, in 1948 the Cubs in Chicago and in 2008 the Cubs at Coors field in Denver. But she found her own ways with the game. In the 1950s and 60s, she organized baseball pools for the World Series, founded a cub scout den leading to her sons' softball teams, and for decades she followed various teams, including her Rockies.

Weekends might find Edie teaching Sunday School, packaging up picnics in the backyard or the foothills, or being the camp cook on family fishing trips in Colorado's mountains. In her few spare moments around such campfires, or late at night at home, Edie loved reading newspapers and magazines. Others may have thought these quiet times were solely for her own regeneration, but she also used them to correspond with many family and friends throughout the country, whether they be in adversity or holiday.

Perhaps most memorable about Edie? Her good nature and contagious laugh. In order for someone to develop a good sense of humor, they need someone who will laugh at their wit. That was Edie, the perfect audience. Her response was genuine, but never injurious. Simply her presence lit up those around her, turning most toward their better nature. If they didn't turn, she remained true, both to her nature, and to those attempting wit. Edie didn't need to prove her value, she already had achieved it. She was valued not because she talked most or loudest, but because she listened the best.

What can we do in remembrance of Edie? Carry on the ideas she carried. Know that good people exist. Bring out the best, not worst. Treasure shooting star moments. Leave each place better than found.

A funeral service will be held on Sunday, March 4, 2018 at 11AM at Horan & McConaty 3101 S. Wadsworth Blvd.
Services
Service
Horan & McConaty - Wadsworth
3101 S. Wadsworth Blvd.
Lakewood
,
CO
US
80227