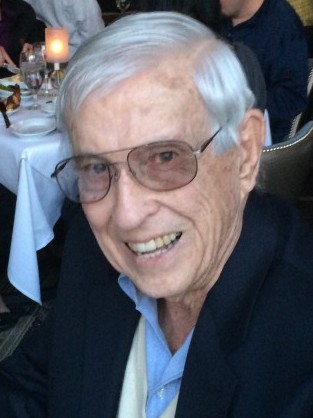 March 13, 1924
-
February 6, 2018
Born in Benton, Oregon
Resided in

Centennial

,

Colorado
Obituary
Alexander (Sandy) T. Craven passed away on February 6, 2018. He was born in Corvallis, Oregon on March 13, 1924 to Alexander and Jenny Craven. He is preceded in death by son David (Ruth) Craven. He is survived by his wife of 68 years, Joy Craven and son Eric (Jan) Craven.
As a toddler, Sandy moved with his parents to Denver, Colorado where he grew up, graduating from Denver East High School. He joined the Navy in 1943 to become a pilot. After earning his wings in 1946, Sandy was discharged from active duty. He then went to the University of Denver business school where he met Joy Jordan. Sandy and Joy were married on November 23, 1949. They lived in Denver until Sandy was recalled into the Navy for the Korean War. Sandy had a long, varied Naval career as a pilot during the Korean War and afterwards as a naval aviator. Sandy & Joy were stationed in Kingsville Texas, Imperial Beach California, Whidbey Island Washington, Las Vegas Nevada, Quonset Point Rhode Island, and Kaohsiung Taiwan. Their oldest son, Eric, was born in Kingsville and the youngest, David, was born in Denver in between the Kingsville and Imperial Beach assignments. Sandy and family retired to Denver after their Taiwan assignment.
Sandy had quite a varied career in the US Navy. As a pilot during the Korean War, Sandy flew fighters off of the USS Antietam carrier, participating in 20 combat missions. During one mission, his plane's wing was badly shot up, preventing a carrier landing. Another pilot on the mission escorted Sandy to make an emergency landing at an advanced marine airfield. As part of Sandy's Arctic experience, he flew in the DEW Line (Distance Early Warning) out of Point Barrow Alaska. Then, later in his career, he had two 6 month tours in the Antarctic as part of Operation Deep Freeze, flying scientists around the continent. Sandy made it to the South Pole, had a mountain in Antarctic named after him (Mt. Craven), and made many penguin friends during those tours. Sandy had many experiences that every little boy dreams of having.
Sandy enjoyed many hobbies throughout his life, mostly after retirement including photography, jewelry making, traveling in a motorhome with Joy, dirt biking, and motorcycling. He enjoyed laughing, enjoyed people, but mostly enjoyed watching his boys grow up.
A private ceremony is being planned at Ft. Logan National Cemetery. In honor of Sandy, donations can be made to the Shriners Hospital for Children (2900 Rock Point Drive, Tampa FL 33907) or to pancreatic cancer research in honor of son David (e.g. at www.lustgarten.org/donate).
Services
Funeral Home
Horan & McConaty - County Line
5303 East County Line Road
Centennial
,
CO
US
80122